TMT Laser technology                       
TMT's new laser system is based on fibre laser technology. The high degree of efficiency in the cutting processes is because of the cutting speed and the accuracy of the material to be cut.
The fibre laser is regarded as very efficient, among other things because of its high level of effectiveness and excellent beam quality.  For laser cutting it has a comparatively high degree of efficiency of over 30 %.
Power: 1500 watts
Speed: 120 m / min
Accuracy: +/- 0.03 mm
Max. sheet size: 1500 x 3000 mm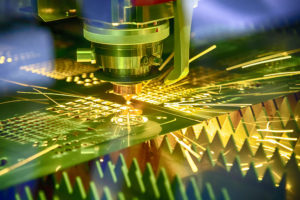 We can carry out the following laser cuts:
Steel                           from 0.5 to 16 mm
Stainless steel          from 0.2 to 6 mm
Aluminium               from 0.8 to 5 mm
Brass                          from 0.8 to 5 mm
Any questions about our laser cutting or the rest of our range of services?
Please contact us.
Subsequent processing
You can also arrange for us to process your laser-cut item further. Besides laser cutting, we offer a wide range of other processing options.
These include rolling, trimming, turning, milling and drilling, in addition to welding and complete component assembly.
We can join both individual parts and complete assemblies together with pinpoint accuracy by means of our MAG, MIG, TIG, spot or stud welding processes.
We only use DNVGL certified welders.
To give your product the correct shape, a computer-controlled sheetmetal press break is at your disposal. We also have a wide range of tools for carrying out unusual bending sequences. We can bend lengths of up to 3000 mm and with a maximum folding pressure of 220 tonnes. We also have a triple-roller bending machine with an effective width of up to 2500 mm and a material thickness of 10 mm.