Services / Projects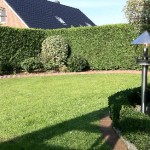 Garden or entrance lamp
made of stainless steel, individually height-adjustable, 220 or 110 volt version, also available as a hanging lamp.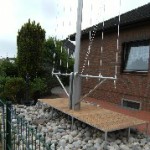 Professional flagpole
for up to seven flags, in a hinged version for easier changing of the ropes. Comes with fittings and walk-on platform and includes invisible ground fixings. Optionally available in stainless or mild steel.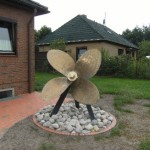 Propeller frame
with non-visible ground anchorage and approx. 1.5 metres high. Includes rotatable propeller bearing.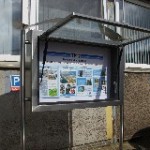 Showcase
made of stainless steel with upwardly-hinged flap. Lockable and with impact-resistant Plexiglas, lighting optional.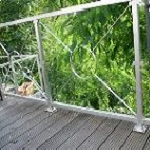 Stainless steel handrails
as a safety rail for balconies, for decoration or as privacy screening for terraces. Choice between Plexiglas and safety glass, available in any size.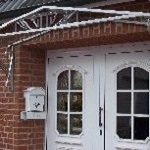 Porch roofing
any custom size possible.
Material: 1.4301 (VA stainless steel)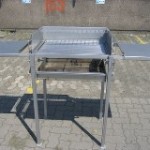 Stainless steel barbecue
can withstand any party!
Robust and functional, available in any design.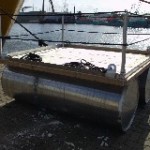 Work pontoon
made of aluminium, with safety rails and transport eyelets, hardwood floor. Tanks can be filled to adjust height.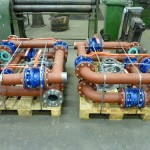 Complete piping systems
shown: Fuel pipes as DN 200 bypass system with butterfly valves. Material: S235JR (ST37)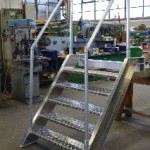 Pilot ladder
Picture shows special extra-wide example.
Material: Almg3 (aluminium).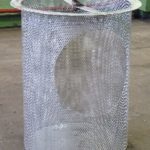 Filter inserts
Series production or one-offs. Any size. Please request a quotation.
Material: 1.4301 (VA stainless steel)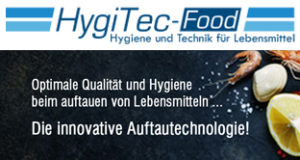 Defrosting units with new technology – hygiene and technology for food!
We offer new-technology defrosting systems for foodstuffs such as fish or meat. Our process is energy-efficient, time-saving, and high-quality. It features high levels of hygiene and microbial safety of both the process and the product. Innovative defrosting of deep-frozen food. Accelerated heat transfer is brought about, among other things, by sensor-controlled use of cold aerosols, so that a thawing process can be ended early. The structure and fresh natural colour of the food is preserved with the help of aerosols. For further details see: http://www.hygitec-food.de